2020 Marriage Conference
"For this reason a man will leave his father and mother and be united to his wife and the two will become one flesh." - Genesis 2:24
Most couples long to experience more intimacy in their marriage, but often the things of life, both big and small, get in the way. Join speakers Bill & Mindy Meier as they discuss spiritual, emotional, and physical intimacy as pathways to create more intimate, unshakeable marriages.
October 24 | 9am-3pm
Live at the St. Charles Campus (SOLD OUT)
Satellite hosts at the DeKalb, Streamwood, and Aurora Campuses*
Also available via Livestream
In-person events: $25 per couple
Livestream: $10 per couple
Registration for the in-person events is closed, but there may still be space at one of our satellite host locations (Aurora, DeKalb, and Streamwood). If you are interested in attending one of these locations, please email to determine space availability.
Registration is still open for the Livestream event. Click below to register for this online-only option.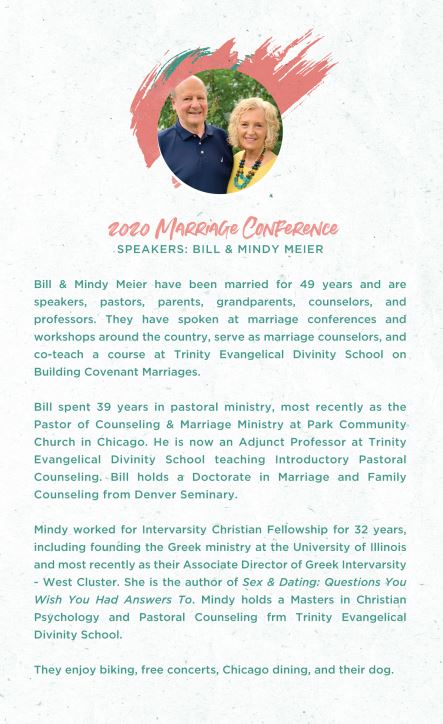 *Limited seating available at in-person events. See the Agreement page for details regarding in-person events at Christ Community Church.