DeKalb Announcements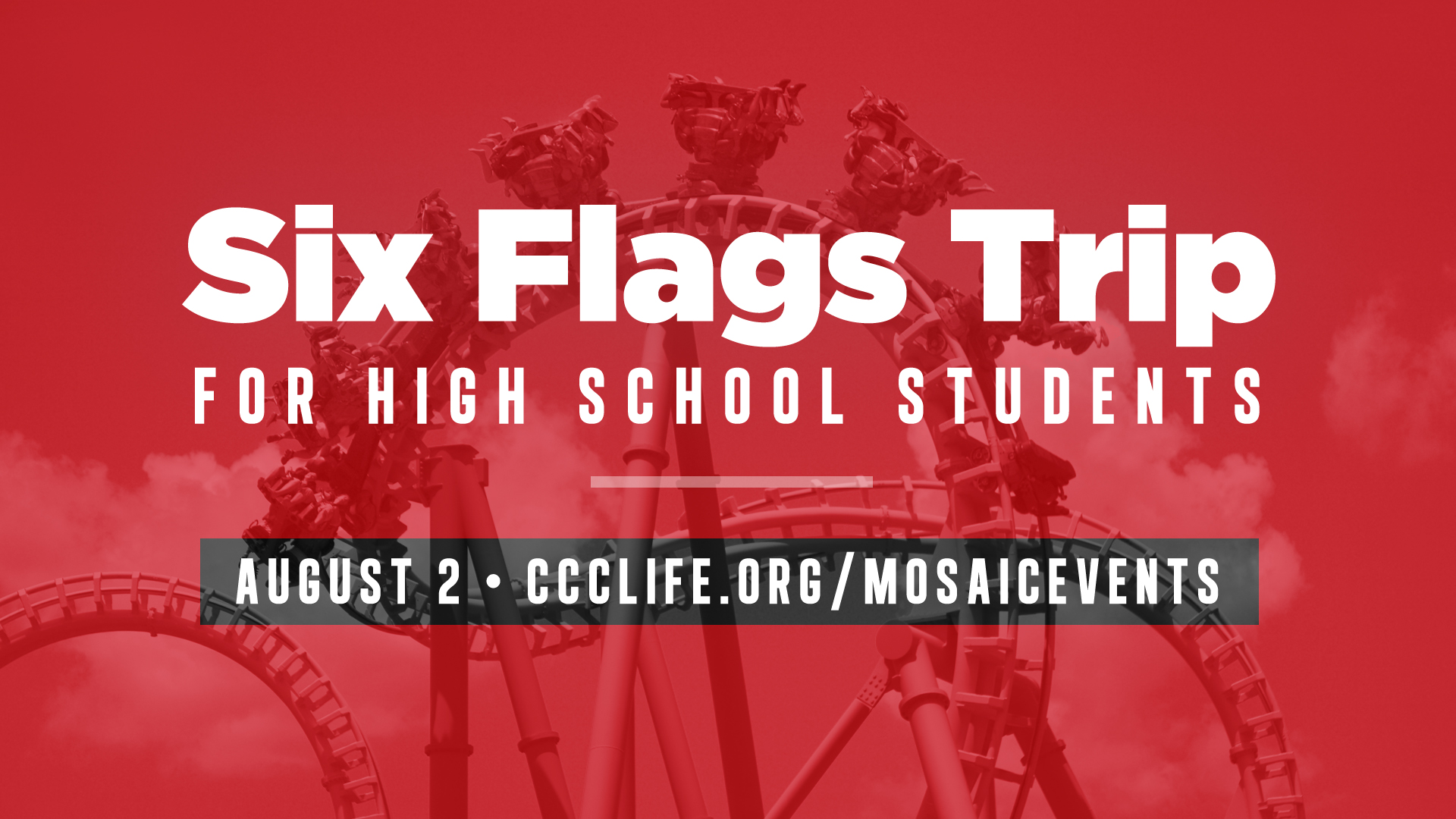 High School Six Flags Trip
Are you a roller coaster rider? Like daring rides like the Dare Devil Drop? Sign up to go to Six Flags on Friday, August 2. The price is $65 per student. If you'd like a meal ticket, it's an additional $15. Register at ccclife.org/mosiacevents.
---

School Supply Collection
Help meet the needs of local kids by donating school supplies for the coming school year. We are collecting 1-subject notebooks, pens, crayons, markers, 2-pocket folders, #2 pencils, pencil pouches, glue sticks and empty backpacks. New supplies only please. Supplies can be dropped off in collection bins in KidsWorld between July 13-28.
---

God's Plan for Money
Financial Peace University's engaging and practical ten-week program covers topics like how to eliminate debt, spend and save wisely, and give like never before. Offered at the DeKalb Campus on Tuesday nights September 10-November 5; 6:30-8:30pm. Registration begins July 10 at ccclife.org/fpu.
---
Construction Update
The generous and faithful giving of our church has provided DeKalb Campus with the ability to add a storage building on the east side of our property. In addition to providing more storage space, it will also give us room to house lawn, snow, and landscaping equipment. By storing this equipment, we will be able to utilize volunteers to take care of our property and save us from hiring out those services. We hope to complete construction by this fall.
Support & Recovery
Care Night on the DeKalb Campus offers a variety of groups for support and recovery on Mondays, 6:30-8:30pm. Groups available during July: Single & Parenting; Re-Engage (couples); Surrender & Win (men); Surrender & Win (women); Sexual Integrity (men). Learn more: ccclife.org/carenight. The fall semester begins September 16.
Serving Opportunity: Cup O' Joy
Cup O' Joy needs volunteers to serve our guests and provide a friendly, welcoming environment. This is a fun serving opportunity and a chance to get to know our visitors as well as those who call this church their home. We have several open positions to fill at various services. Visit ccclife.org/simplyserve and search "Cup O' Joy" to apply.
Serving Opportunity: Communion
In order to serve communion each month, we need volunteers to prepare and clean up the trays and supplies. This behind-the-scenes opportunity requires a simple time commitment of once a month for less than an hour. Visit ccclife.org/simplyserve and search "communion" to apply.
Let's Pray for Each Other
Have a prayer request? Want to pray for others? Visit our online prayer wall at ccclife.org/prayer to submit or view prayer requests. We've seen God work through this communal prayer!
New Online Events Calendar
We now have a new, more comprehensive and up-to-date online calendar! See our campus' event calendar at ccclife.org/dekalbcalendar or on the CCCLife mobile app.
Fall Trips Forming Now
God wants us to bring his name, his message, and his ministry to all nations. Check out our fall Go Teams to Brazil, Sierra Leone, Nicaragua, Bangladesh, Czech Republic, and Haiti forming now at ccclife.org/thenations.
Automatic Recurring Giving
As you travel this summer, you don't have to worry about your giving. Set up an automatic, recurring online gift. To start, you can tap "Give Online" in your app, visit ccclife.org/give, or text CCCLIFE to 77977.
Beware of Foul Balls!
Softball season has arrived and so has the risk of foul balls in our parking lot. Please carefully consider where you choose to park and remember that Christ Community Church is not responsible for any damage.
Read the Bible With Us
You can read and journal along with our four-year Bible reading schedule in three ways: 1) Purchase the Bible Savvy or EPIC Journal at our Re•source bookstore once a quarter. 2) Download the CCClife mobile app; a free version of the Bible Savvy Journal is built in. 3) Subscribe to the daily Bible Savvy email at ccclife.org/biblesavvy.
We're Hiring
Work where you worship; visit ccclife.org/employment to learn more and to apply.