Streamwood Announcements

Sunday Gatherings at Sunny Hill Park, Streamwood
Starting this Sunday, August 9 from 3 - 4:30pm, we are going to gather at Sunny Hill Park in Streamwood. It's off of Irving Park Road, just west of Rt. 59. We will do this for the next 5 Sundays (weather permitting).
We will gather with one another, have some fun, safe activities, allow the kids to play on the playground equipment, have a brief sermon discussion, and share prayers and praises.
Everyone in your family is welcome. This is an easy invite for friends and neighbors to introduce them to the church family. You may want to bring your own snacks, blankets, lawn chairs, etc.
Community Outreach - Car Wash
Streamwood campus is hosting a community car wash on Saturday, August 15. We will be serving the Streamwood community from 9 am - 1 pm.
We need a few hundred good volunteers. No... actually we need about 40 volunteers split between two different shifts: 9-11 am & 11am-1pm. Some people will hold signs inviting the community in for a free car wash while others will help wash and dry cars. This is a great way to introduce our community to a loving church.
---

Read the Stories of Life Transformation
On July 25, almost 40 people were baptized in the pond outside the St. Charles Campus. This weekend, we will celebrate their public declarations of faith with a special video in service.
You can read the story of life transformation of each person baptized at ccclife.org/baptismstories.
---
Preparing for the Fall
On Friday, our leadership team sent out an all-church email with insights that we learned from the recent all-church survey about regathering. If you have not seen that letter, give it a read at our official home for Regathering Updates.
In-person weekend worship services are targeted to resume on the weekend of September 12 & 13. Our ministries have also been announcing plans to regather. For all official updates and information, regularly check our Regathering Updates page.
Important Links & Resources
Need Help? - We are ready to respond and help however we can to the needs of our church and community.
COVID-19 Serving Page - Find practical ways to Love Your Neighbor and share stories of how you are serving or are being served to encourage others during this difficult time.
What Ministries Are Meeting Online?
Watch our Online Ministry Schedule for information on what's happening.
---

In-Person and Online Groups
We all have stories of pain, but also hope and joy. Our Care Night groups foster relational, emotional, and spiritual growth no matter where you are in your story.

Care Night's fall session will begin mid-september at the St. Charles, Aurora, and DeKalb campuses. Classes will be offered in-person with proper social distance guidelines and also several virtual classes will be available. Don't hesitate to check out all of the offerings at ccclife.org/carenight.
---

There are five top focus areas for Streamwood Campus volunteer mobilization in response to the coronavirus impact:
Hanover Park Community Center: Purchase and donate food and other essential items from a list we will provide you.

Lawn Care: Help clean up yards of people in our congregation and community.

Food for Greater Elgin: Volunteer your time on a weekday at this Elgin warehouse for various responsibilities (registration, greeting, sanitizing, sorting, etc.)

Blood Donations: Donate blood at one of several locations we will provide you.

Mask Sewing: Got a sewing machine and handy with it? We'll provide instructions for how you can make much-needed masks available to medical professionals and local residents.
---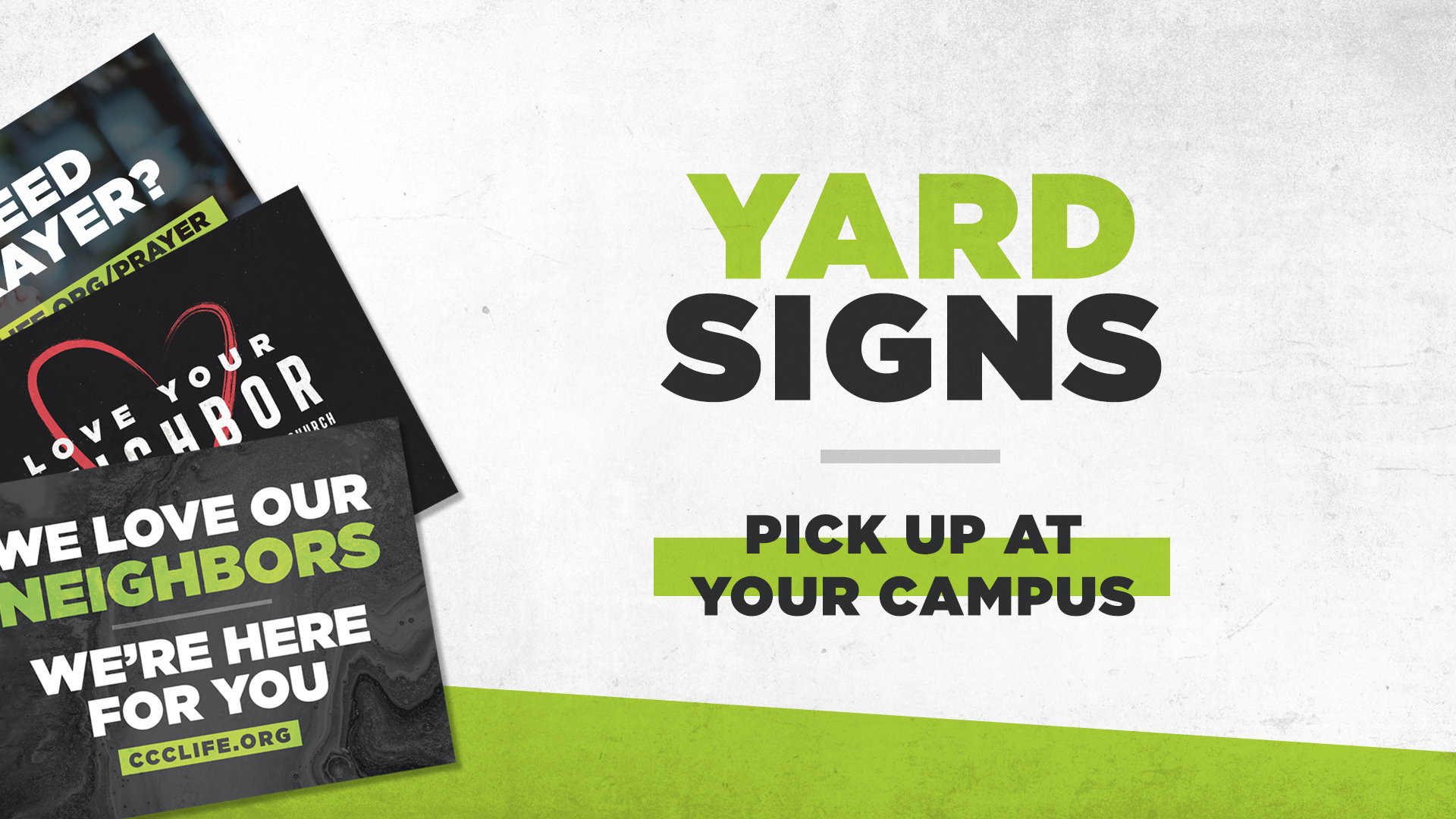 Love Your Neighbors!
Yard Signs are now available at the main entrance of all campuses. Drop by and grab one of our two styles of yard signs!
---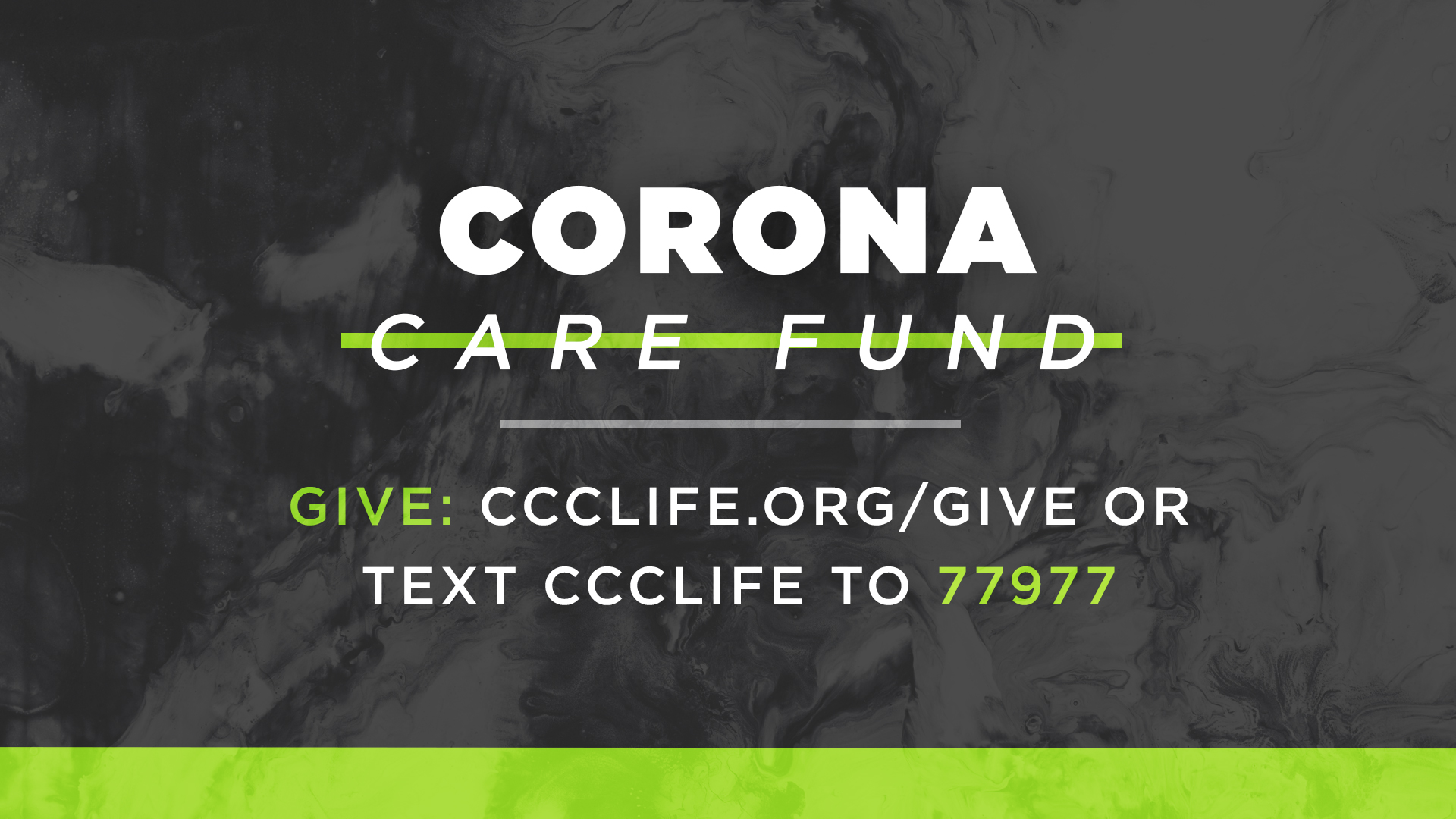 Help Us Continue to Help
Since creating the Corona Care Fund, you have responded generously! Thank you! These funds will be used to support people in our congregation who are being severely financially affected by this pandemic as well as our local and international partners.
If you need help during this time, please click here.
You can give to this new fund or to our regular fund (that sustains our continual ministries) through one of three digital giving options: 1) at ccclife.org/give, 2) by texting CCCLIFE to 77977, 3) or with the CCCLIFE mobile app.

Not sure how to give online? Watch a walk-through tutorial from Pastor Larry Stratton.
---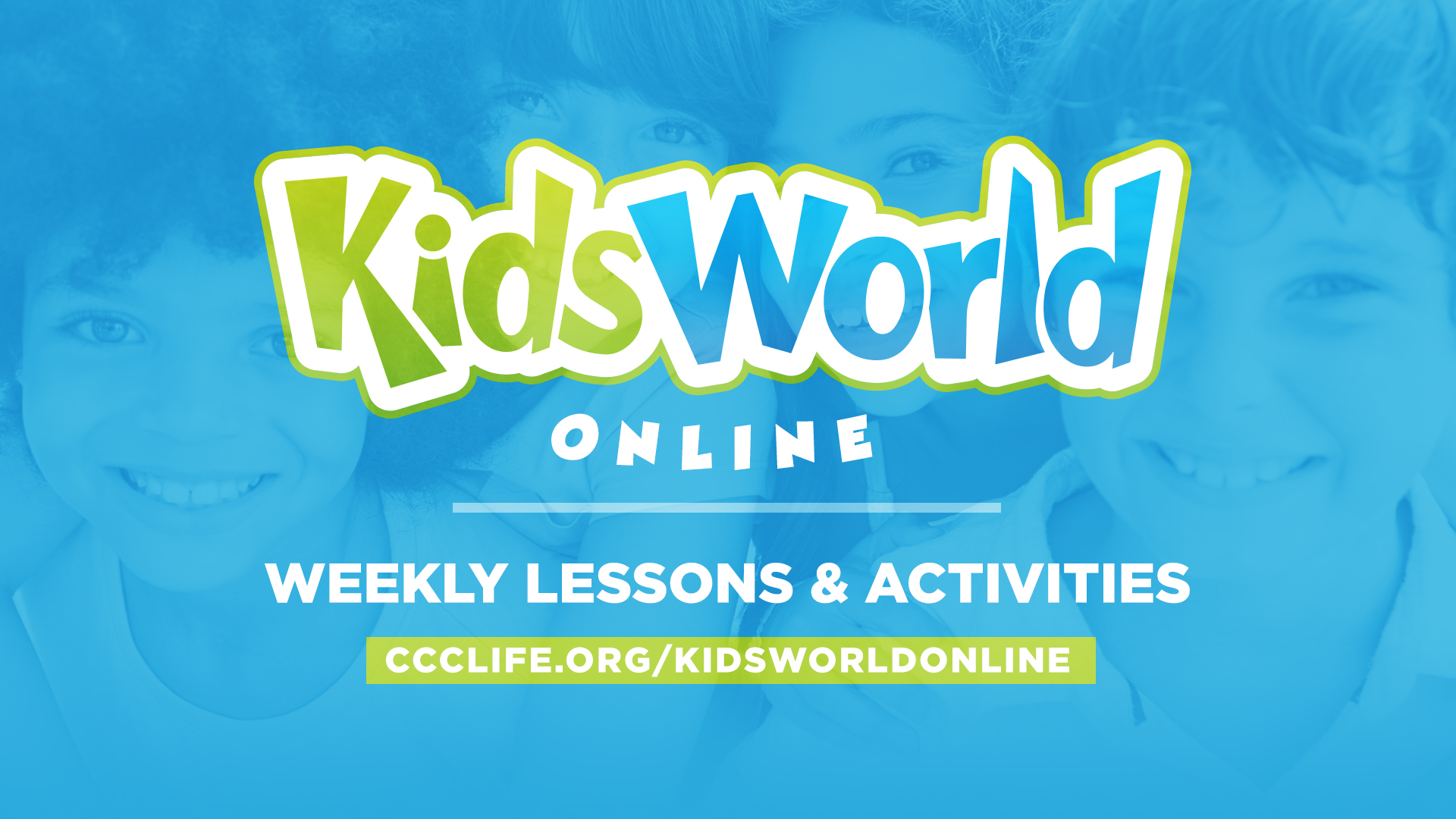 KidsWorld Online - Each week, our KidsWorld team is providing families with an at-home KidsWorld experience.
And be sure to subscribe to the new KidsWorld YouTube Channel featuring fun videos and storytimes during the week for elementary kids!
---

We Want to Pray for You!
Leave your requests at ccclife.org/prayer so our staff, prayer teams, and church body can pray.
---
Worship Songs of This Series
With the launch of this new sermon series, we've created a Spotify Playlist with the worship songs that we'll be singing throughout the entire series. We hope this resource will help you in your personal worship, and help you to engage more fully in worship when you join us on the weekends. You can search CCCLIFE on Spotify to find the playlist.
Sports
Our leagues are open to all so please invite others to these fun events. Check out ccclife.org/sports for more information on the opportunities below:
The Chrome Motorcycle group rides weekly on Wednesday evenings throughout the summer.
Men's Golf League tees off on Thursdays each week as well. Join for one week or the entire season.
Volleyball has been on a break since our St. Charles building has been closed, but will be serving it up at Primrose Farm Park on Bolcum Road, on the outdoor courts, Mondays from 6-9 pm during August and September. This is drop in play, so come for one or all of the weeks, and bring a friend!
Love Your Neighbor Resource
Would you like to be more intentional about reaching out to your neighbors with whom you have already established a relationship? Blesseveryhome.com is a national resource that can be especially useful for reaching out to our community during Covid-19. This website is a helpful way of mapping out your neighborhood, and who's in them, so that we can pray for and share hope with them.
Bible Reading Schedule
We now have a new handy printable Bible Savvy schedule for May-September. Our website, ccclife.org/biblesavvy, is the hub of all Bible reading resources, but you can also:
1) Download the CCCLife mobile app from your app store.
2) Subscribe to the daily Bible Savvy email at ccclife.org/biblesavvy.
New Facebook Group for Explorers
Not sure about Christianity? Asking hard questions right now? We've created a safe online space to discuss the big questions surrounding the Christian faith for explorers and people wanting to learn more about who God is and where he is in the midst of our lives. If you are a Christian, please share this group with those seeking.