Streamwood Announcements
Women's Breakfast
May 1, 8:30-10:30am
Registration at ccclife.org/breakfast. Any questions, please contact Donna Fay
---
OUR PATH TO NORMALCY
We are gearing up for what should be a remarkably fun spring and summer as we continue to get back to a sense of normalcy. What do we have planned? Learn more at ccclife.org/reserve and see the Simply Serve Hot Lists at ccclife.org/simplyserve.
---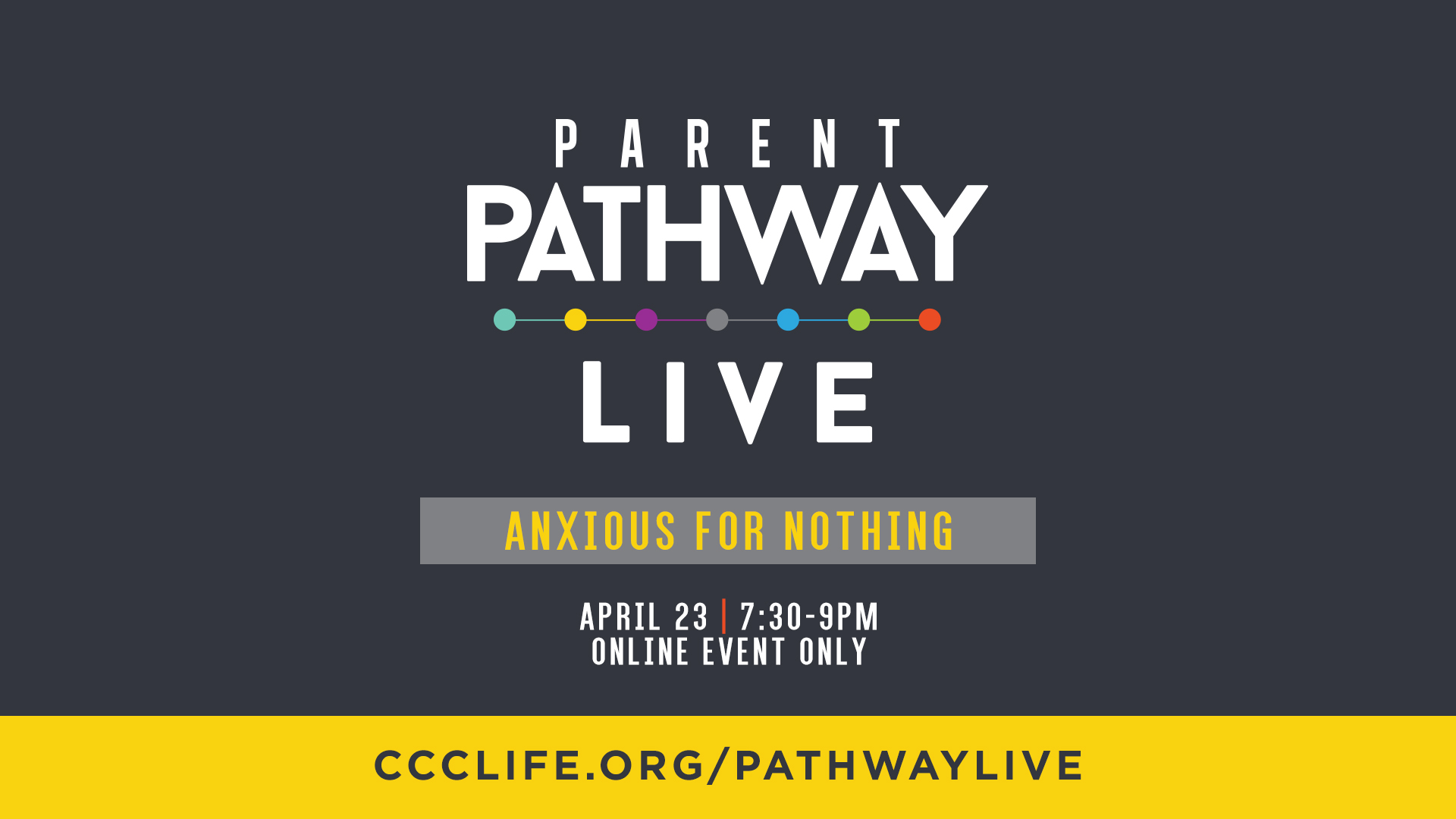 How Do You Lead Kids Through Anxious Feelings?
Discover how the kids in your life are thinking at each age and how your influence can guide them through their anxious thoughts. Join Parent Pathway Live: Anxious for Nothing on Friday, April 23, at 7:30pm. Register at ccclife.org/pathwaylive. At this online event, you will get to connect with other parents in the same life stage and hear from an expert on how we can help our kids to lean on God and be "anxious for nothing."
---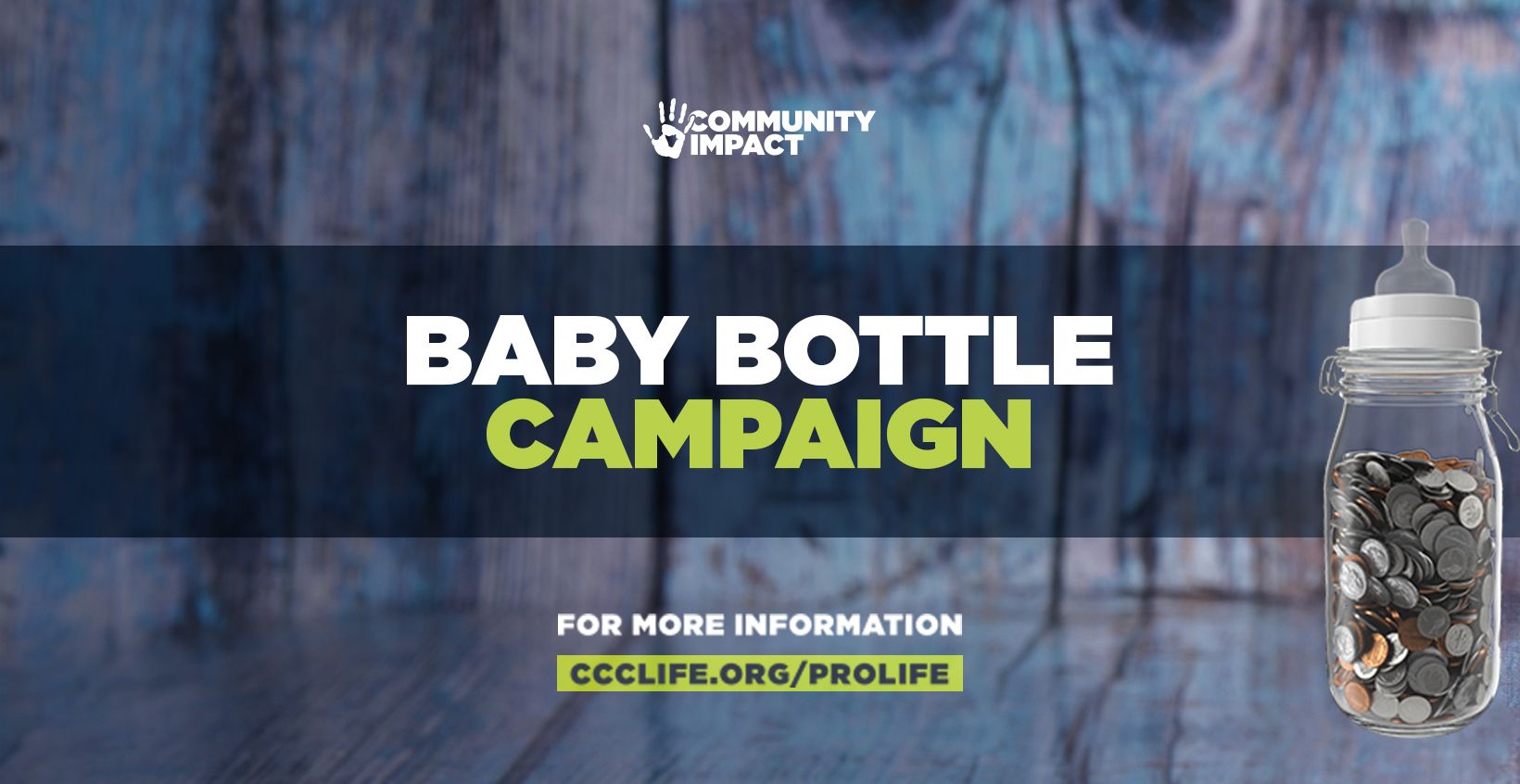 Make Change Happen With Your...Change!
Christ Community Church is starting our annual Baby Bottle Campaign this weekend. We will be raising funds to support our local pregnancy centers. Help women in your local community and make a real difference.
Pick up a bottle or two during services (or outside of reception Monday through Friday at the St. Charles Campus) and start to collect change, cash, or checks! You can even virtually fill a bottle!
---

New Seminar Soon
We will begin the book of Numbers in the Bible Savvy Reading Schedule in May. On April 29, Pastor Clayton Keenon will teach a seminar on this book to prepare us to read it together. The workshop will available in-person at the St. Charles Campus and online on April 29, 7-9 pm. Whether you're new to the Bible or have been reading it for years, this class will provide skills and insights so you can understand, enjoy, and apply the book of Numbers to your life. Register here.
---

New Class: How does work fit into God's big story?
Whether you are a student, stay at home parent, white collar, or blue collar, the majority of us spend more than half our waking hours doing some type of work. The question is: Does God have a purpose for that work, or does he only care about what we do for a couple of hours on Sunday? Monday night class starts May 3 in-person at the St. Charles Campus. Register: ccclife.org/faithatwork.
---

WEEKLY REGISTRATION INFO
Registration for weekend services opens every Monday at 10am at ccclife.org/register.
Our services adhere to suggested health guidelines for masks and social distancing. Please see our Participation Agreement for guidelines we will be enforcing.
---
Prayer for Business Owners
We know that right now small businesses are faced with massive challenges. Are you a business owner? Did you know that as a part of our Generosity Ministry we have a team that goes and prays for our business owners? We would love to schedule a time to pray for you and your business, no matter how large or small. Let us know at http://businessprayer@ccclife.org
Stay Active & Invite
Spring and summer sports will be kicking off, teeing off, and serving up fun again this year. We have leagues and groups for football, golf, tennis, softball, and a running. If you enjoy sports, you can join as an individual, or bring some friends or a team of your own to participate with us in outdoor comradery. Dates and registration can be found on ccclife.org/sports.
SHARE All-Campus Evangelism Training
SHARE training is scheduled on Sunday, May 16 at 1-2 pm online for all campuses. This is a short, fun, evangelism training which will include breakouts teaching helpful ways to sharpen skills as well as how to be intentional toward transforming the lives of those around us. Register at ccclife.org/share

Child Dedication on Mother's Day
Child dedication is a commitment between parents and the church that each will do their part to see the child discover and fulfill God's unique purpose for his or her life. All campuses will have Child Dedication on May 8 & 9. Spots limited (because of social distancing guidelines on stage). Applications open now until April 23. Parent preparation class required before dedication; class times vary by campus. See ccclife.org/childdedication to apply.
Creating Healthy Step Families
We love blended families and want to support and encourage you in your unique journeys. Join us May 15, 9am-2pm, for an outdoor event at the St. Charles Campus watching the international Blended & Blessed conference. This event will challenge, inspire, and encourage you. Head here to join 27,000 people from 22 countries who have experienced this event over the past five years.
Corona Care Assistance
We have created the Corona Care Fund for the purpose of helping those in our congregation who are experiencing significant hardship during this time as a result of Covid-19. We are ready to respond and help however we can to the needs of our church and community. If your job circumstances have changed, or your life has completely been impacted through our current turn of events; please let us know.
Girls Night is Back!
We are so excited to offer you a new selection (along with some returning favorites!) of workshops to choose from. Grab a friend, invite a neighbor or someone from work, or bring your Community Group and join us for Girls Night on Friday, April 30, from 7-9pm.
Men's Prayer Hour
Men: Looking for Connection, fellowship, prayer, worship, and encouragement? Our Men's Hour of Prayer is for you. Learn more: ccclife.org/mensprayerevent
LEADERSHIP RECOMMENDATIONS
Following a selection process, the church leadership is recommending that Jim & Andrea Jerozal (St. Charles) and Steve & Catherine Masey (Huntley) are added to the elder team. Please direct any comments, questions, or concerns to Dawn at 630.485.3303 or .
Baptism in the Pond
At Christ Community Church, we celebrate baptism by holding special services throughout the year. The next baptism is in the pond at the St. Charles Campus on June 5. Information classes begin mid-May. Learn more.
Mother's Day Jewelry Sale
Starting this weekend and up until Mother's Day, Resource will offer 20% off all jewelry.
Creative Arts "Open House" Weekend Rehearsal
Have you ever wondered what goes into creating weekend services at the St Charles Campus? Have you thought, "I wonder if I could be a part of that?" Are you technically savvy? Do you sing or play an instrument? Do you have attention to detail and/or could help coordinate an event? This "open house" will "pull back the curtain" on what you see behind the tech booth, in the video room, and up on the platform. Right alongside an actual rehearsal for that upcoming weekend, we will help explain how and why we do things in an effort to provide an opportunity for you to see if your heart/skills/talents possibly align with a serving opportunity in Creative Arts. Date: May 13, 6:15-9pm at the St Charles Campus. Sign up at ccclife.org/sccreative.
Group Meetings Resume for Seniors
Guess who's back? Primetimers at the St. Charles Campus will again begin meeeting in-person on May 6 ,10:30am-12:00pm. We'll be outdoors under the tent or in the chapel if weather is inclement. Learn more: ccclife.org/primetimers
Join us for KidsWorld Storytime!
Parents & caregivers: We have an opportunity for you to participate in the spiritual formation of your kids with worship and engaging activities. KidsWorld Storytime will be offered at the St. Charles Campus and online on April 14, 21, and 28. In-person option: 9:30-10am, Virtual option: 10:30-11am. Reserve your spot at ccclife.org/kidsevents. Not only is this a great time for young families but you can meet new families in a similar season of life. A number of grandparents have used this as a way to spend quality time with their grandchildren. Have some friend in the same life stage? A few families have used this as an opportunity to invite neighbors who have been resistant to attend church programs in the past.
Connect to a Community Group
Hundreds of Community Groups meet across all four Christ Community campuses to study the Word, pray, connect, and grow together. Have you connected to a group yet? Get connected. Some featured groups:
Mixed Groups are for any adult looking to connect to others and grow in their faith through prayer, bible study, and fellowship regardless of age, gender, or marital status.
Did you know that many Community Groups are meeting online right now? Connect to others, study the bible, and grow in your faith through an online group.
¡Christ Community Church ahora ofrece grupos de comunidad de habla hispana! Estos grupos te ayudaran a conectar con personas cuya lengua materna es el español. Tiempo de oración y crecimiento espiritual sera el enfoque al estudiar la Palabra de Dios. Gustarías ser parte o conocesa alguien que este interesado? Visita la pagina

ccclife.org/grupoespanoles

para registrarte o para mas informacíon.
Read with Us in Bible Savvy
Join us in our daily, 4-year Bible reading plan. See biblesavvy.com, follow the brand-new @Bible_Savvy Twitter account, and sign up for the free daily Bible Savvy email!
Bible Savvy Podcast
Join hosts Clayton Keenon, Eric Ferris, and Nikki Lucas for weekly conversations about how to understand, enjoy, and apply God's Word, following the Bible Savvy reading schedule. Each episode guides listeners through the COMMA Bible study process and shows just how fun and easy it can be to read God's Word. Listen: ccclife.org/podcasts.
Work Where You Worship
Visit ccclife.org/employment to see open positions and to apply.