Primetimers
What is Primetimers?
Primetimers is a weekly Community Group experience for seniors 60 and over. Group meetings feature hymns, bible study & discussion, prayer, and fellowship. Throughout the year, Primetimers also offers senior-friendly events, group serving opportunities, and occasional guest speakers on a variety of senior-interest topics.
When and Where is it?
Thursday mornings from 11:00 am-1:00 pm, September- May at the St. Charles Campus
July- Thursday evenings at 6:30 pm at the St. Charles Campus
How do I get involved?
First-time visitors are warmly welcomed! Start by attending a weekly meeting (check the schedule below for current dates and info). There is no cost to attend or registration required.
Click below for more information and to connect with the 60+ Ministry.
What's happening right now?
Summer 2021
Join us in July for Primetime at Night!
Thursday evenings in the chapel from 6:30 pm to 8:00 pm at the St. Charles Campus.
We will watch and discuss the sermon series Twisting the Truth by Andy Stanley. Coffee, water, and snacks will be provided.
Fall 2021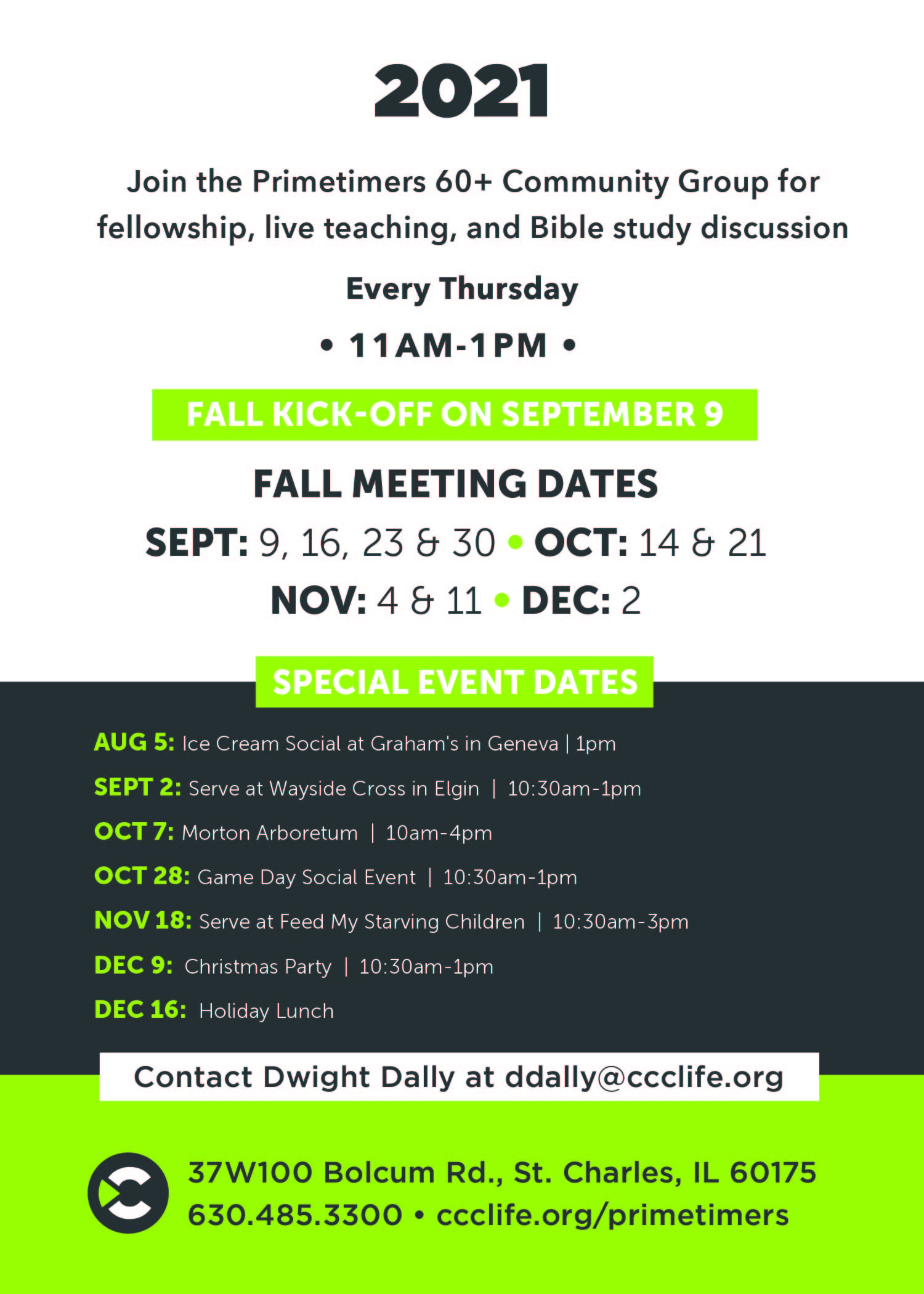 St. Charles - Adult Ministries
Jeff Buster
Dwight Dally
Eric Ferris
Leah Gallaher
Leah grew up in West Dundee, Illinois and received her BA in Education at the University of Iowa. Leah, her husband, Steve, and their three children began attending Christ Community Church in 2003. She has enjoyed being involved with women's and student ministries over the years. In her free time, she enjoys spending time with her family and friends, reading a good book, and gardening.
Lindsey Jodts
Jeannine Mueller
Jeannine was born and raised in Champaign, IL. She is married to her high-school sweetheart Jason and they have two children. They have been attending and serving at Christ Community Church since 2008.
She enjoys scrapbooking, playing volleyball with her family, biking, and cheering her son on in baseball.
Kelsey Schrader
Kelsey is a DeKalb, Illinois native. She is an alumni of the University of Arkansas and Moody Theological Seminary, where she received her Bachelors in Marketing and Masters in Spiritual Formation & Discipleship. She has a heart for helping others anchor their life and identity in Jesus.
Kelsey enjoys just about any outdoor activity, gathering with friends or family, trying new recipes, and reading.