Aurora Campus
Christ Community Church is one church with five campuses in the Chicago suburbs. We strive to be a great place for you to meet new friends, be cared for, serve in the community, study the Bible, and discover God's plan for your life.
WEEKEND SERVICES
In-Person (masks encouraged):
Sunday 9:10am - Masks are required for all kids and volunteers in KidsWorld.
Sunday 11:10am - Masks optional in KidsWorld
Online: 5pm & 8pm Saturdays | 9am, 11am & 8pm Sundays | ccclife.org/live

Address: 40W098 Galena Blvd., Aurora, IL 60506
Office Hours: Monday-Wednesday 8:30am-4:30pm
Office Phone: 630.450.8000
As a church family, we want to continue to connect with and care for you. If your contact information has recently changed, please complete this form so we can update our records.
Announcements Facebook Newsletter Signup
Experience Christmas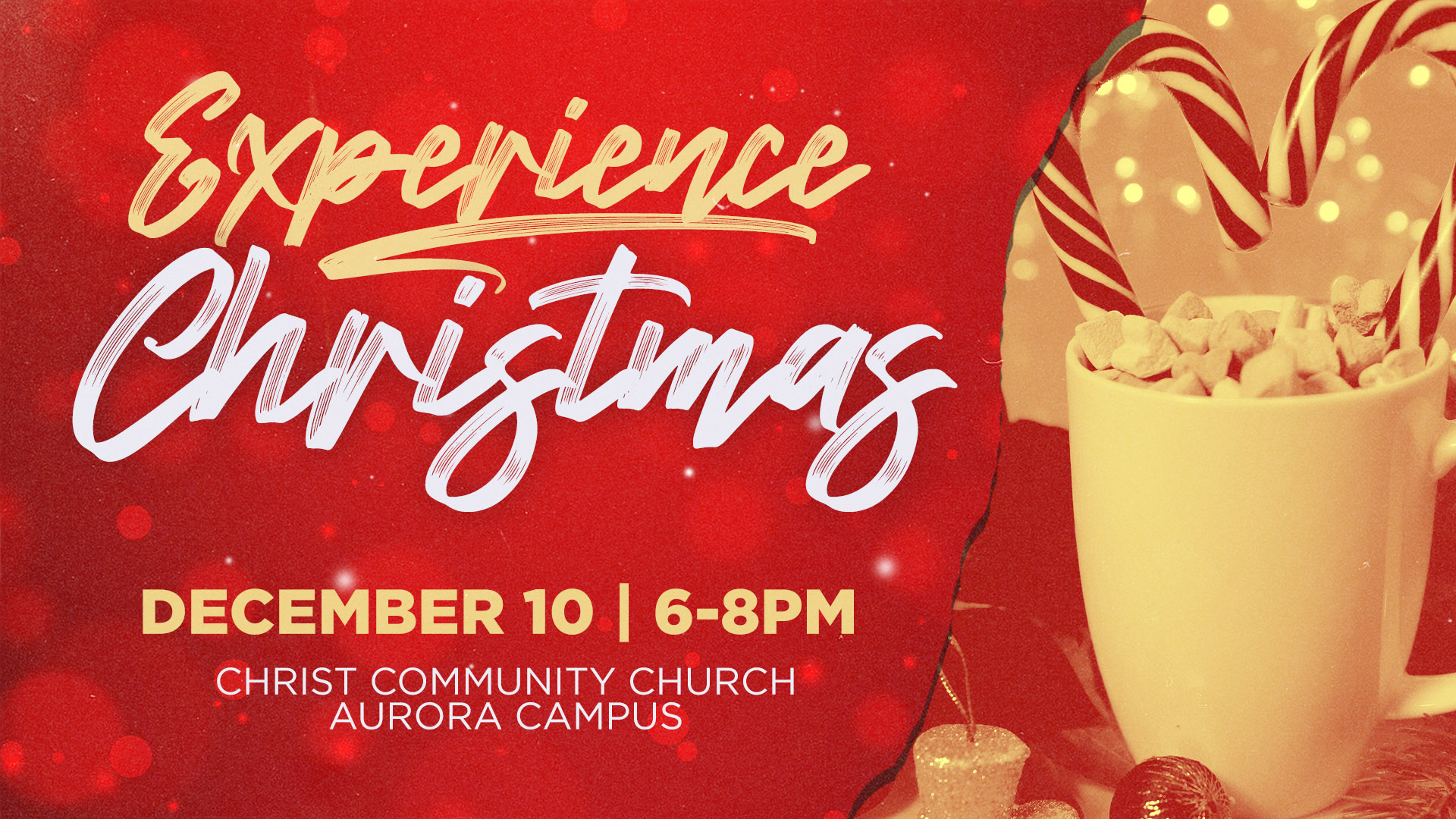 We hope you will join us for Experience Christmas at the Aurora Campus from 6-8pm on Friday, December 10. This interactive/indoor event will give guests the opportunity to hear a live telling of the Christmas story, sing Christmas carols, participate in a serving project to benefit children from a local elementary school, feed the shepherds sheep, and enjoy a delicious cup of hot cocoa. Everyone is invited to attend so tell your family, friends, neighbors and, if you would like to help at the event, click here to see the list of volunteer opportunities.
NEW HERE?
We hope you'll join us this Sunday for service. We can't wait to meet you! Please contact us at 630.450.8000 and we'd love to connect with you more.
The Aurora Campus was established in 2007. Want to learn more?
OUR STORY | OUR BELIEFS | OUR CAMPUSES
WHAT TO EXPECT
Each weekend service lasts about 80 minutes. We begin with a time of singing and worshiping God and end with a teaching based on the Bible. You can learn about our current teaching series and find resources here.
Attending In-Person? People in our church come from all walks of life and backgrounds. You're invited to simply come as you are; no need to dress up. During weekend services, kids infant-5th Grade have an age-appropriate service of their own where they can learn about God in a way they'll understand and in an environment they'll love. Students in 6th grade and up attend service with their families.
Attending Online? You can watch online at ccclife.org/live, on YouTube, and on Facebook. Each week, our KidsWorld team creates a lesson for your kids to watch from home. Check it out here.
COVID-19 PROTECTIONS
See current COVID-19 protocols here.
Offering will not be collected during the service, but cash and checks can be put in the drop box by the office or people can give online.
Campus Calendar