St. Charles Announcements

Marriage Conference 2020: Building Unshakeable Marriages
Join us on October 24 as speakers Bill & Mindy Meier as they discuss how spiritual, emotional, and physical intimacy are vital components to building the marriage God desires for you.
NOTE: The event at the St. Charles Campus is now full. Please register to attend at our satellite host locations in Aurora, DeKalb, and Streamwood or watch online.
Register at ccclife.org/marriageconference.
---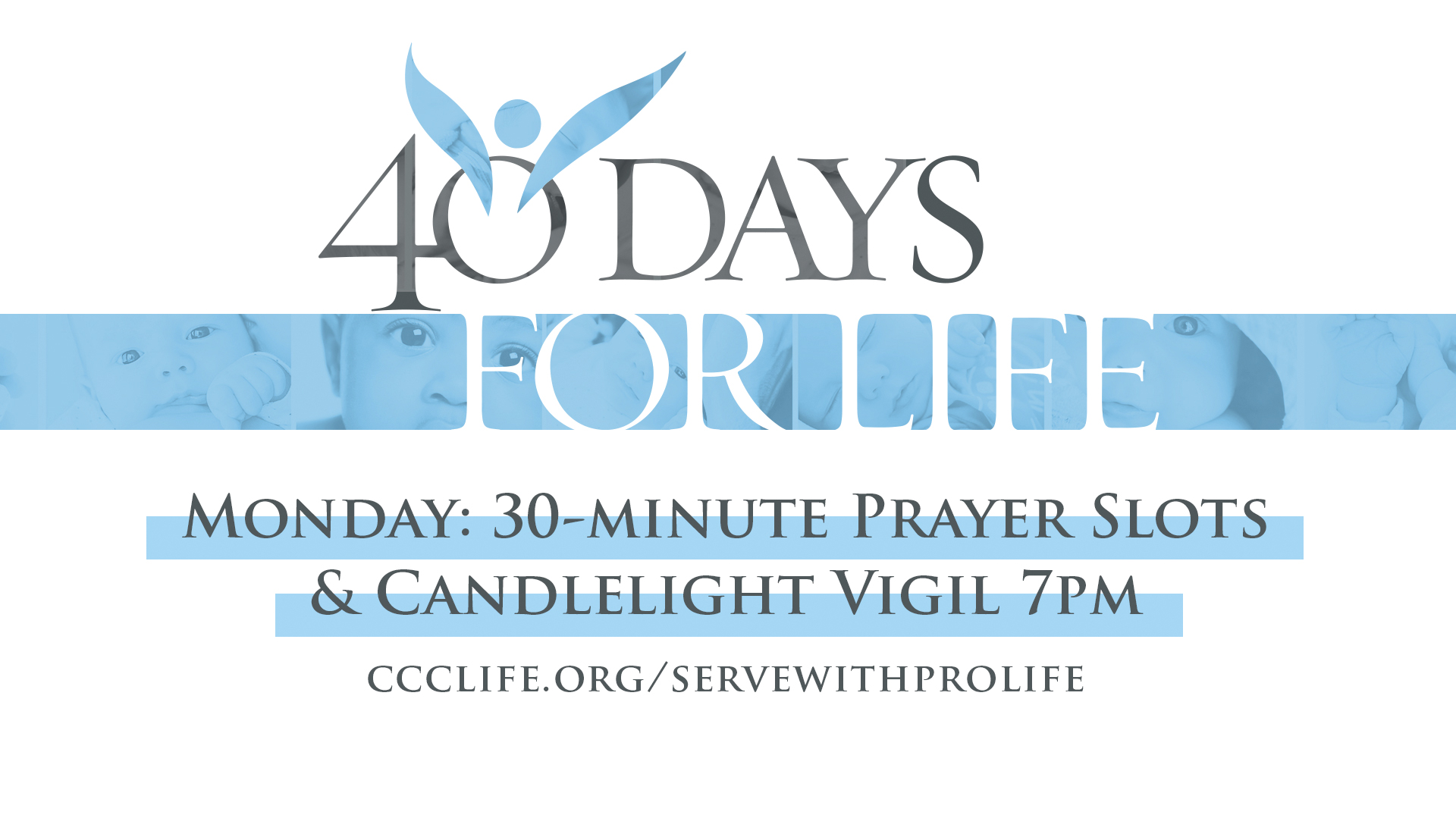 40 DAYS FOR LIFE PRAYER VIGIL
40 Days for Life is a worldwide effort to end abortion through 40 days of prayer, fasting, and peaceful vigils outside of abortion facilities.
We have 30-minute prayer slots available for Monday 7am-5pm: ccclife.org/servewithprolife.
We will also host a Candlelight Prayer Vigil on Monday, October 19, at 7-7:45pm.
---

Help Kids, Meet Neighbors
Be a part of changing children's lives all over the world through a simple gift with Operation Christmas Child. A shoebox is the first gift many children have ever received and the treasures inside allow them to experience God's love in a tangible way.

This year we are inviting our neighbors to join us in packing over 3,000 shoeboxes between all of our campuses. You can help kids meet Jesus and build relationships with your neighbors all at once.

Here's what to do:
1) Pick up Neighbor Packs of 3 or 5 boxes at any of our campuses starting October 17. These are already bundled in to-go packs with instructions for you as well as instructions for your neighbors. You can also pick up individual boxes at all campuses.
2) Drop-off boxes to your neighbors by November 6 and let them know when you will be picking them up.

3) Collect shoeboxes by November 13 or arrange for a special time for your neighbors to return the completed boxes to you. Bring your shoeboxes back to your campus between October 24-November 15 or on Mondays and Wednesdays from 9am-5pm.

If you'd rather build a virtual shoebox, click here.
---

NEW: BIBLE SAVVY SEMINAR
On October 29, Clayton Keenon will teach a seminar on the Book of Genesis to prepare us to read it together in the Bible Savvy reading schedule this November.
The workshop will be available both in person at the St. Charles Campus and online from 7-9pm. Register now at biblesavvy.com.
---

Saturday, October 31, 1-3pm
The Candy & Costumes Drive-Thru event will include games, candy, a raffle, and a photo booth! Families can show off their favorite costumes to KidsWorld staff and volunteers! The first 100 kids will get a pumpkin to decorate at home. You do not need to wear protective face masks because everyone will be staying in their cars. Invite friends!
---

WEEKLY REGISTRATION INFO
Registration for weekend services opens every Mondays at 10am at ccclife.org/register.
Our services adhere to suggested health guidelines for masks and social distancing. Please see our Participation Agreement for guidelines we will be enforcing.
---
Child Dedication This Fall
Child Dedication will be held on November 14 & 15. An approval application and attendance at our preparation class are required. Visit ccclife.org/childdedication to apply online, download an application, or receive more information.
Bible Sale!
Resource at the St. Charles Campus is now open and all bibles and bible covers are 25% off through the month of October. Our hours are after Saturday night and Sunday morning in-person services. We are also open on Wednesdays from 10am-2pm.
Spanish Community Groups
Do you or someone you know resonate more effectively in Spanish? Christ Community now offers Spanish-language Community Groups. Visit ccclife.org/grupoespanoles for more information or to register.
The Creative Arts Team is looking for Camera Operators!
Join us in capturing and live streaming our services to thousands of people online and across our four campuses. Haven't run a camera before? Don't worry, we'll train you! Just email Nikki at . You can also visit the CCCLife mobile app and fill out the Connection Card; just check the box that says you're interested in serving. In the comment section of that card, type Creative Arts. We can't wait to hear from you!
Are you interested in adoption?
In Illinois, 3,300 of children in foster care are waiting to be adopted. Homes of Hope is a ministry within Christ Community Church to encourage and prepare individuals, couples, and families to care for vulnerable children and to walk them through the adoption process. Christ Community Church provides financial grants for those interested in forever changing the lives of these vulnerable children. Visit ccclife.org/vulnerablechildren.

There is a Place for Students at Christ Community
Weekly online and in-person programming and groups are available for students. Registration is needed to participate in both versions of our small groups, so sign up at ccclife.org/students.
NEXT INSPIRING STORIES: TAMMIE JO SHULTS
For the first-time ever, we will have an Inspiring Stories service in December to use as an invitiation opportunity builing up to Christmas. Our live guest at the St. Charles Campus will be Captain Tammie Jo Shults, one of the first female fighter pilots in the United States Navy and the pilot who safely landed the severely crippled Southwest Airlines Flight 1380, saving the lives of 148 people. Watch for more details at ccclife.org/inspiring.
Join Us for Preschool Storytime!
You and your children are invited to join us for KidsWorld Storytime! We will engage in a time of story, music, and activity. Storytime will be held on Wednesday mornings from 10/28-11/18 at the St. Charles campus. Join us for one week, or all four! Each week is designed for children 14 months - 4 years and their caregivers. Siblings are welcome. Registration is required. Go to ccclife.org/kidsevents for more information and to register.
Weekday Volunteers Needed for KidsWorld
KidsWorld is looking for a small and mighty village to help us keep KidsWorld toys and supplies sparkling clean after weekend services. We will be cleaning on Mondays and restocking on Wednesdays. Volunteers should be able to lift medium weight boxes/buckets and not be afraid to get a little messy. HIGH SCHOOL STUDENTS: This is a great way to get your service hours in! Email Natalie Olsen at if you are interested.