St. Charles Announcements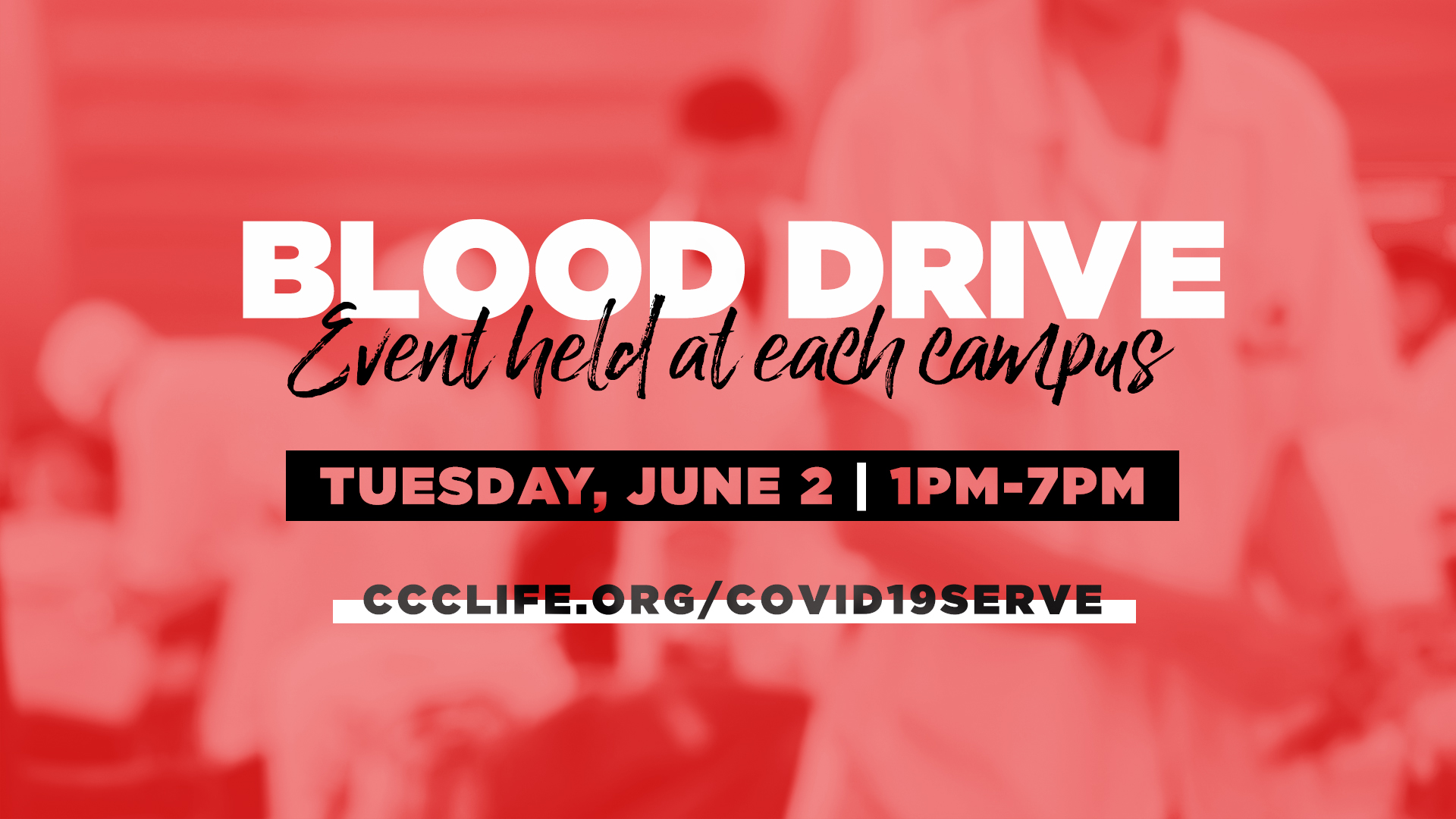 How we can help the community
As you may know, blood is in short supply right now as donations have decreased since the onset of COVID-19.
In response to this, Christ Community Church will host a blood drive at every campus on Tuesday, June 2, from 1pm-7pm. For more details--and more ways you can serve right now--visit ccclife.org/covid19serve.
---

Virutal Camp for Middle and High School Students
The Student Ministry team has been working hard on plans for a fun-filled summer, including our first-ever virtual camp, Mega Camp-In-A-Box Palooza Fest! Plans will include unique, creative activities for students to make and share camp memories while connecting to and drawing near to Jesus.
Mega Camp-In-A-Box Palooza Fest will take place from Sunday, June 28, to Friday, July 3, for both middle school and high school students. The basic camp package ($35) includes a camp t-shirt, water bottle, sticker pack, and a devotional book for the week. Additionally, we are offering a "choose your own camp adventure" experience with bonus boxes available for purchase.
Every camp day will include the following: morning devotional time, chapel sessions with teaching and creative worship, daily challenges, competitions, interactions with pastors and friends, Palooza Fest (our interactive game show), virtual cabin discussions, and campfire time.
Learn more at https://ccclife.org/students.
---

All the Commotion in a Box
Due to COVID-19, we won't be holding Camp Commotion in-person this summer. Instead, we're packing up some of the fun of camp in a box for you to bring home!
Filled with activities, supplies, devotions, camp swag, and more, Camp Commotion in a Box is a great option for kids and parents who are missing our traditional summer camp experience and looking for some engaging, fun activities to do at home this summer.
Learn more at campcommotion.org.
---

New Love Your Neighbor Resources:

DOORHANGERS: We have made new doorhangers that you can distribute to neighbors. One side is simply blank for your to write a note offering hope, sharing your phone number, etc. The other side promotes our prayer wall and online services. These materials will be available on Tuesday at all cmapuses during our blood drive.

PRAYER: Would you like to be more intentional about reaching out to your neighbors with whom you have already established a relationship? Blesseveryhome.com is a national resource that can be especially useful for reaching out to our community during Covid-19. This website is a helpful way of mapping out your neighborhood, and who's in them, so that we can pray for and share hope with them.
---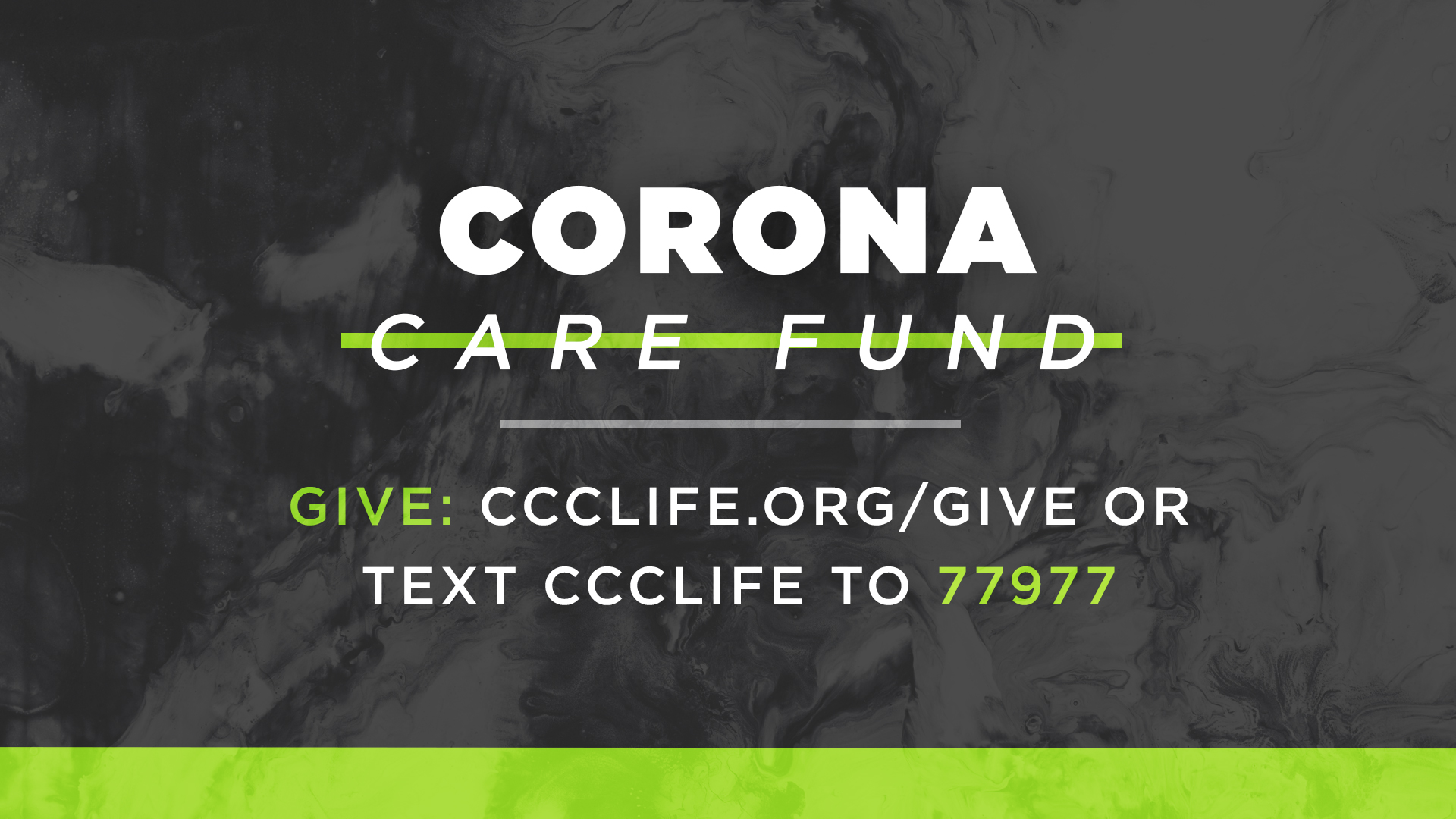 Help Us Continue to Help
Since creating the Corona Care Fund, you have responded generously! Thank you! These funds will be used to support people in our congregation who are being severely financially affected by this pandemic as well as our local and international partners.
If you need help during this time, please click here.
You can give to this new fund or to our regular fund (that sustains our continual ministries) through one of three digital giving options: 1) at ccclife.org/give, 2) by texting CCCLIFE to 77977, 3) or with the CCCLIFE mobile app.

Not sure how to give online? Watch a walk-through tutorial from Pastor Larry Stratton.
---

Important Links & Resources
Coronavirus Updates - Official updates on church programs. Look here for weekly Pastor Jim videos.
Need Help? - We are ready to respond and help however we can to the needs of our church and community.
COVID-19 Serving Page - FInd practical ways to Love Your Neighbor and share stories of how you are serving or are being served to encourage others during this difficult time.
Resources To Stay Informed
Online Ministry Schedule - We aren't meeting but ministry hasn't stopped.
Campus Announcements - It's like the Weekly Welcome but not made of trees.
---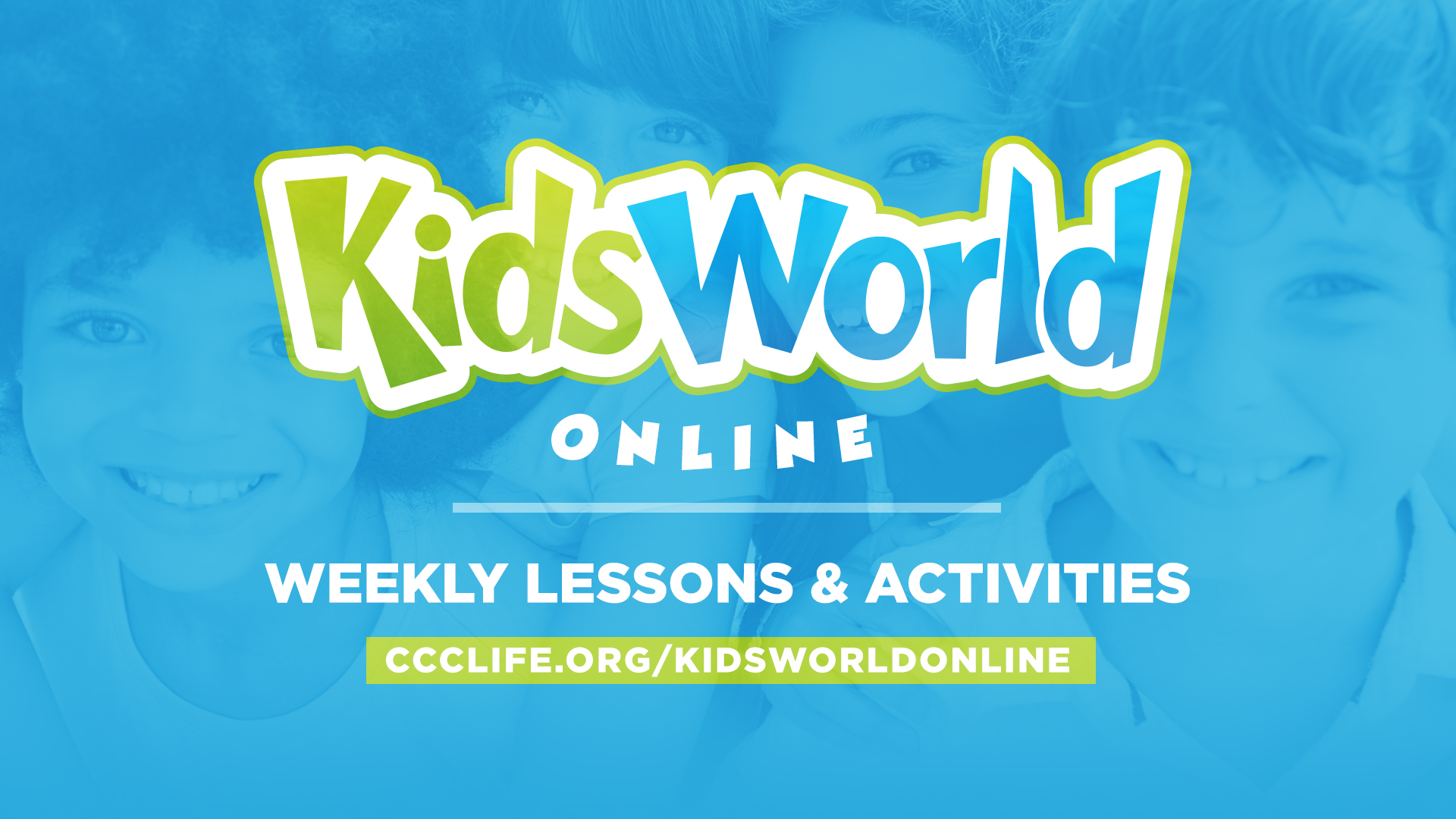 KidsWorld Online - Each week, our KidsWorld team is providing families with an at-home KidsWorld experience.
And be sure to subscribe to the new KidsWorld YouTube Channel featuring fun videos and storytimes during the week for elementary kids!
---

We Want to Pray for You!
Leave your requests at ccclife.org/prayer so our staff, prayer teams, and church body can pray.
---
Golf, Tennis & Chrome
Our socially distanced sports are kicking off in person! Men's Golf is currently meeting at Hughes Creek in Elburn, weekly on Thursday evenings, and additionally, Tennis players and the Chrome motorcycle groups are preparing to begin activities in June. For more information, check out ccclife.org/sports.
Prayer for Business Owners
Are you a Business Owner? We know that right now small businesses are faced with massive challenges. Did you know that as a part of our Generosity Ministry we have a team that goes and prays for our business owners?
We believe God wants to protect and bless your business and use your business for his purposes. In this pandemic we've been scheduling zoom prayer calls with businesses. We would love to schedule a time to pray for you and your business, no matter how large or small. If you would like to schedule a time for this you can let us know at
LIVE Weekend Chat
We want to watch the service with you. Each weekend join our team of staff and volunteers as we chat about the weekend's message, answer your questions in real time, and provide practical resources. Visit ccclife.org/live and click "Join."
Bible Reading Schedule
We now have a new handy printable Bible Savvy schedule for May-September. Our website, ccclife.org/biblesavvy, is the hub of all Bible reading resources, but you can also:
1) Download the CCCLife mobile app from your app store.
2) Subscribe to the daily Bible Savvy email at ccclife.org/biblesavvy.
New Facebook Group for Explorers
Not sure about Christianity? Asking hard questions right now? We've created a safe online space to discuss the big questions surrounding the Christian faith for explorers and people wanting to learn more about who God is and where he is in the midst of our lives. If you are a Christian, please share this group with those seeking.