St. Charles Announcements

Pray Daily With and For Us
Three times a year, we set aside a week to pray for our ministries, community, and nation. Please take time each day to pray with us and for us as a church. Everyday, we will share themed prayer points via the CCCLife mobile app and on our Christ Community Facebook Page. You can find them anytime on our website or download/print the full prayer guide.
SPECIAL EVENT: Our nation needs prayer. On Wednesday, January 20, we will open the chapel at the St. Charles Campus for prayer throughout the day, 7am-7pm. At the top of each hour, a pastor will lead a short time of Scripture reading and prayer. The rest of the time will be reserved for individual prayer for the nation, with prayer guides provided. Stay for as little or as much time as you like.
---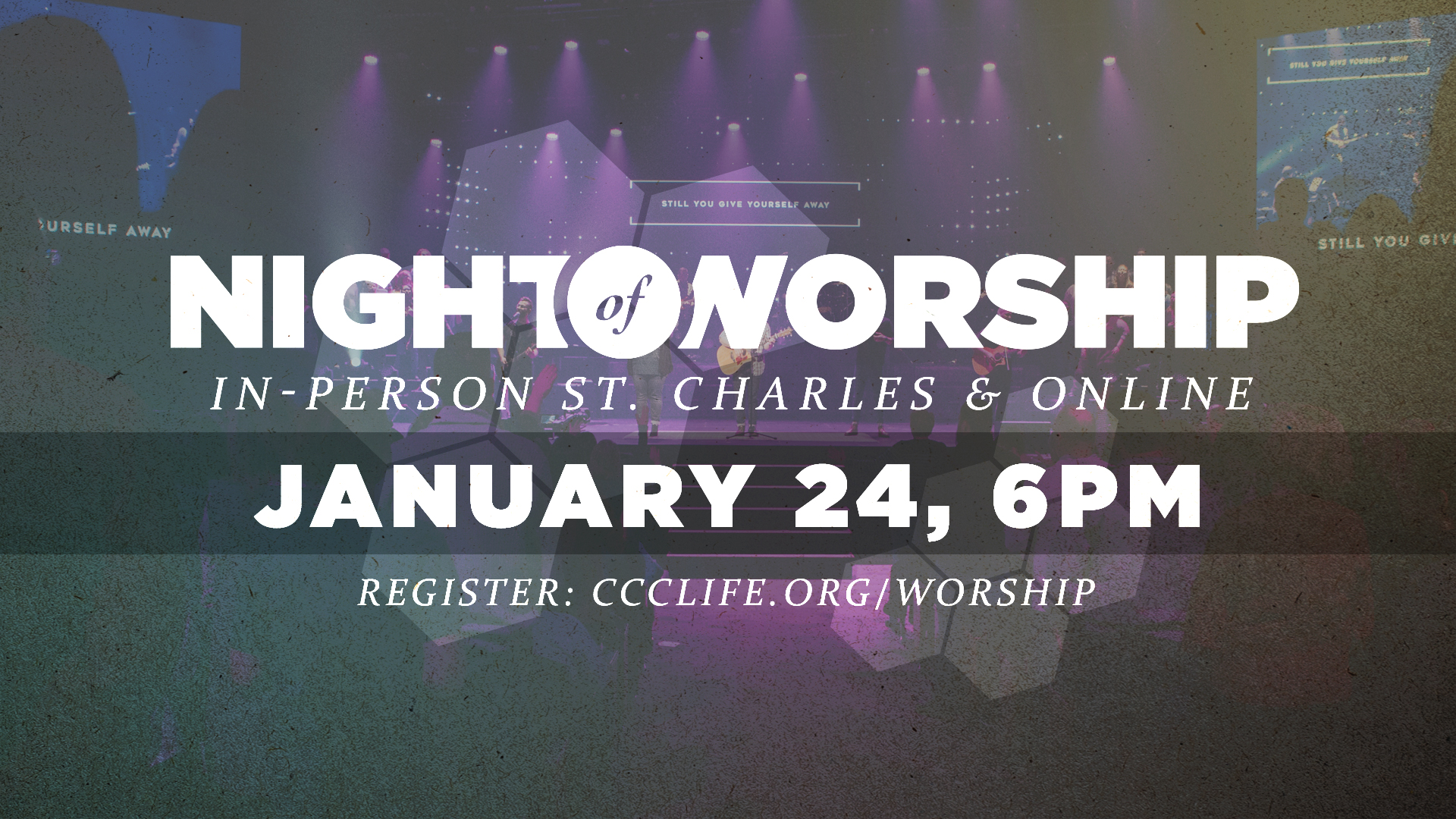 Worship Together. In-Person or Online.
On Sunday night, January 24, at 6pm, all four campuses of Christ Community will gather at the St. Charles Campus for a night of music to worship God. We will also be live streaming the event at ccclife.org/live so that every person who calls Christ Community home can participate! Registration required to attend. REGISTER NOW: ccclife.org/worship.
---

Get to Know Us; Become a Member
On Saturday morning, January 23, we will have a Zoom Begin to Belong class from 8:30-10:30. Begin to Belong is a small class setting used to get individuals more involved in the church, get questions answered, and get to know others that attend Christ Community.
---

Next Inspiring Story Weekend - February 13 & 14
Chris Baker is founder of INK 180, a tattoo shop and ministry in Oswego that turns painful reminders into beautiful art. Since 2011, Chris has removed or covered up nearly 6,000 tattoos of former gang members and sex trafficking victims. He has been the subject of an award-winning documentary and coverage in The Chicago Tribune, Daily Herald, CBS, and more. Watch a video.
---

Life Before & After Birth Zoom Event
Hear from one of our prolife ministry partners, Caring Network's President, Barb Singer, on Thursday, January 21, at 6:30pm as we host a live Zoom event. Our "Life Before & After Birth" event will also include powerful adoption stories and more. Register at ccclife.org/prolife.
---

Next Baptism Opportunity
Baptism is happening with social distancing precautions on Saturday, February. 27. Participants must register and attend a one time one hour baptism preparation class. Children in fourth or fifth grade are asked to register and then schedule a time to meet with your campus children's pastor. Adults and older students can choose between an in person class at your campus on February 7, or a zoom class on February 13 or 14. Register online at ccclife.org/baptism to celebrate your decision to follow Jesus Christ!
---

Find Hope.
Care Night is a place for help, hope, & healing. We offer a variety of groups for support, marriage, and recovery designed to meet your specific needs.
Check out carenight.org for in-person and online classes.
---

It's Not Too Late to Be Part of This Church Family Moment
As part of Christ Community's year-long focus on reading the Bible, at least 70 percent of our 2020 Year-End Gift will go directly to recording the New Testament into new languages. Giving will end on January 20.
---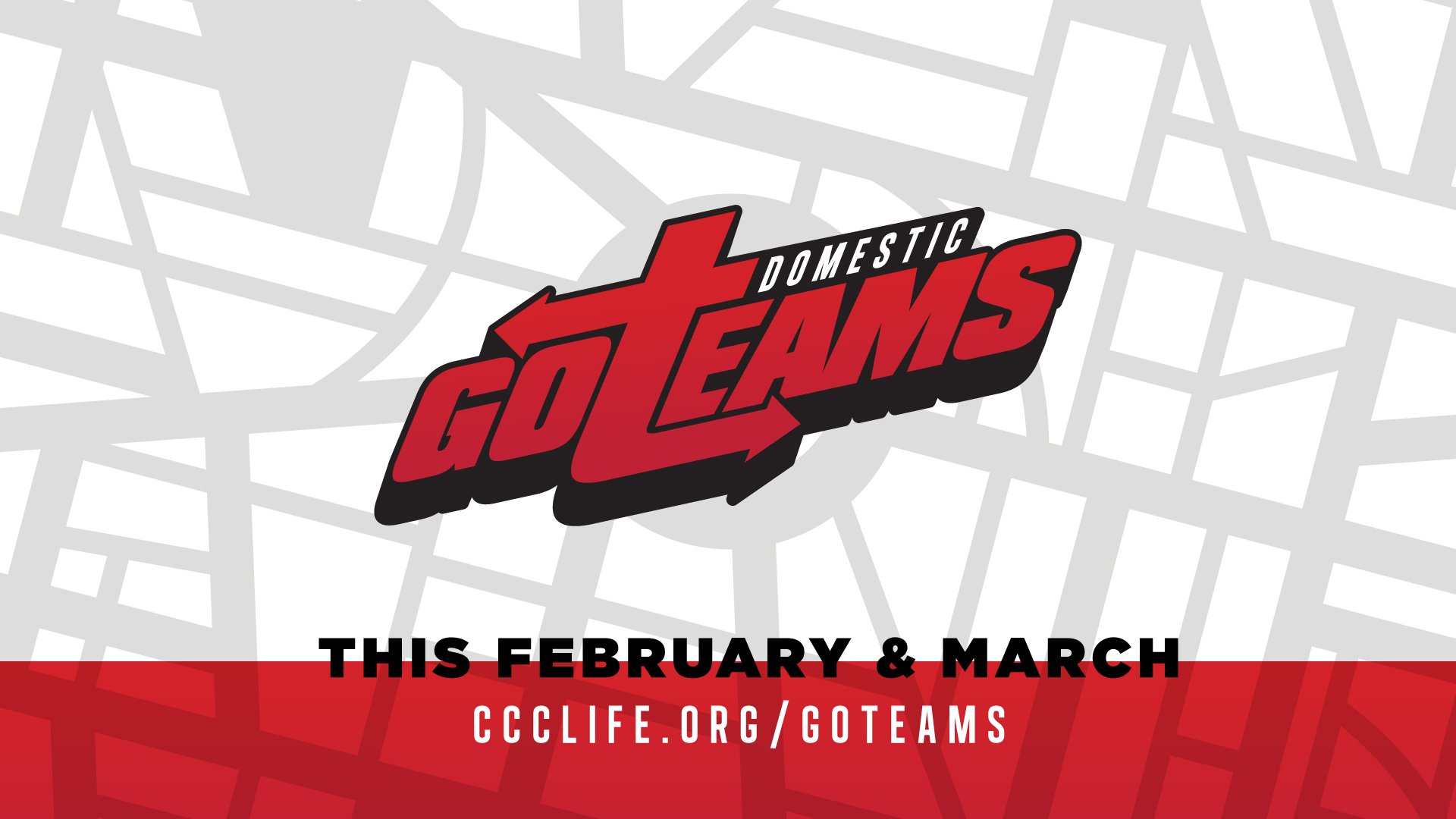 Domestic GO Teams
Because we have been unable to travel internationally on GO Teams, we have shifted to disaster relief Domestic GO Teams partnering with Samaritan's Purse. You can be a part of an army of volunteers to come alongside homeowners to bring relief and compassion in Jesus' Name. Go to ccclife.org/goteams to learn more.
---

Explore Christian Beliefs
Alpha is a ten-session program where anyone who has not surrendered to Jesus (or recently has) can explore the basics of the Christian faith in a friendly, honest, and informal environment.
Invite someone who is spiritually curious to join you online on Mondays starting January 25. Explore and register at ccclife.org/alpha.
---

Leviticus Webinar
We are about to begin the book of Leviticus in the Bible Savvy Reading Schedule. On February 18, Pastor Clayton Keenon will teach a seminar on this book to prepare us to read it together. The workshop will available in-person at our St. Charles Campus and online on February 18, 7-9pm. Whether you're new to the Bible or have been reading it for years, this class will provide skills and insights so you can understand, enjoy, and apply the book of Leviticus to your life.
---

WEEKLY REGISTRATION INFO
Registration for weekend services opens every Mondays at 10am at ccclife.org/register.
Our services adhere to suggested health guidelines for masks and social distancing. Please see our Participation Agreement for guidelines we will be enforcing.
---
Connect to a Community Group
Hundreds of Community Groups meet across all four Christ Community campuses to study the Word, pray, connect, and grow together. Have you connected to a group yet? Get connected.
Bible Savvy Podcast
Join hosts Clayton Keenon, Eric Ferris, and Nikki Lucas for weekly conversations about how to understand, enjoy, and apply God's Word, following the Bible Savvy reading schedule. Each episode guides listeners through the COMMA Bible study process and shows just how fun and easy it can be to read God's Word. Listen: ccclife.org/podcasts.
KidsWorld Storytime
You and your child are invited to KidsWorld Storytime! We will engage in a time of story, music, and activity. This will be a wonderful time to make new friends while exploring who God has created us to be. Storytime will be held on January 13, 20, 27, and Februrary 3. Each week we will offer both an in person and a virtual option. The in-person option will be held from 9:30-10am at the St. Charles Campus. The virtual option will be held from 10:30-11am. Join us for one week, or all four! Each week is designed for children 14 months- 4 years and their caregivers. Siblings are welcome. Masks are required for all kids 2 years old and up. To register, go to ccclife.org/kidsevents.
Work Where You Worship
Visit ccclife.org/employment to see open positions and to apply.
Spanish Community Groups
¡Christ Community Church ahora ofrece grupos de comunidad de habla hispana! Estos grupos te ayudaran a conectar con personas cuya lengua materna es el español. Tiempo de oración y crecimiento espiritual sera el enfoque al estudiar la Palabra de Dios. Gustarías ser parte o conocesa alguien que este interesado? Visita la pagina ccclife.org/grupoespanoles para registrarte o para mas informacíon.
Spanish Community Groups
Christ Community Church now offers Spanish-speaking Community Groups! These groups will help you connect with others whose heart language is Spanish, pray together, and grow together as you study God's word. Do you or someone you know need a group like this? Visit ccclife.org/grupoespanoles to register or for more information.